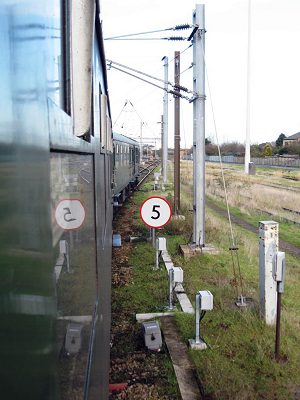 (left) Under the catenary errected during the GE line electrification of the 1980s, 1001 enters Cambridge Yard.
(below) Strange stable-fellows! 1001 and 25kV ac EMU 317514. The 317/5 sub-class is the mid 2000s "refreshed" Class 317/1 (numbering sequence 3173nn), originally out-shopped in WAGN deep purple livery. Class 317/1 is the first tranche of Bedford - St Pancras units, recognised by the aluminium hopper ventilators above the shallow depth windows. These units were due to have only forced air ventilation, which proved to be inadequate, hence the modification to incorporate the blank ventilators.
(above, photograph by Doug Gannon) Cambridge Yard saw photographer and railwayman Doug Gannon seize the opportunity quietly to photograph Messers Armitage and Watts change ends with the train's headboard.
(below) Weary passengers de-train at Warrior Square station. 1001 is nearly home.